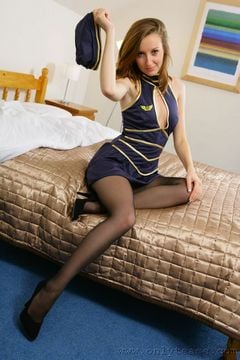 I don't know about you but it's Monday here, the work week has started and I'm ready for a holiday. I wouldn't mind catching the first flight out of here and heading to some place with nicer weather – especially if the stunning Sophia Smith was the air hostess. I'm certain many of you would feel the same way if you saw Sophia in her rather sexy, rather revealing stewardess uniform.
Underneath her uniform, Sophia Smith wears sheer black pantyhose and pink panties. It would be a little naughty if Sophia leaned a little too forward and gave the passengers a peek at her pink panties. You can see a lot more than a peek if you visit Only Tease. Inside Only Tease you can see high resolution pictures of Sophia and all of the Only Tease collection of beauties in sexy clothing and erotic lingerie.
But since, I'm not going on holiday, at least not today, I have to get back to work. See you tomorrow.