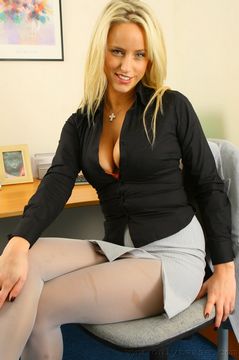 Things definitely get a lot more interesting whenever this busty blonde secretary stops by. Today, Danielle M is wearing an erotic grey suit with a black shirt on underneath it. It looks like her boobs are about to push out of her top, popping the buttons out as they fly free!
Underneath her secretary clothes, Danielle M is wearing an orange bra with matching lace panties. She's also wearing a pair of grey pantyhose that really make this outfit way too sexy. I have a feeling it doesn't matter how many words she can type per minute or how well she can answer the phone that keeps this sexy secretary employed.
See more of Danielle M inside Only Tease. That's where you can see lots of sexy babes like her in erotic outfits. There's thousands of pictures for you to browse through and hours of videos for you to download. Click here to take the free Only Tease tour.