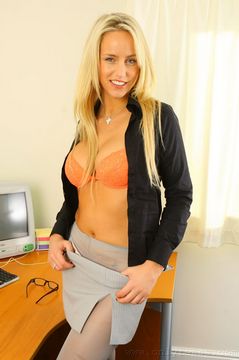 Take a look at these sexy Only Tease photos of Danielle M. This sultry blonde is wearing a smart looking secretary outfit with a black blouse and grey miniskirt. Or maybe you're more interested in what's underneath – an orange lace bra, matching thong and grey pantyhose. I think all of the males looking at her photos will agree that she has some amazing secretary skills. You don't need to know how many words she types a minute, to know that she would be a wonderful addition to your office.
Well, unless she works in your office, there's only one place to see more of Danielle M. Click here to visit Only Tease. There you can see all of her sexy photos as well as photos of hundreds of other beautiful ladies in erotic outfits. Of course, there's also hours of steamy videos to check out and download to your computer.
Come see everything that Only Tease has to offer.