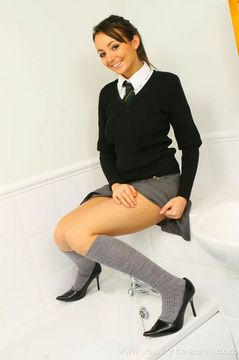 I know it's only the beginning of August and too early to talk about for school because I know most students don't go back to late August or September but I thought you might enjoy this picture gallery. Rachel B is in her naughty college uniform. I have a feeling that a lot of her classmates or even the male professors would have a hard time focusing on the lesson. And if they found out that she decided to keep half of the sexy outfit on as she got wet in the bath I know they would never be able to look at Rachel again the same way.
But you can see all of Rachel at Only Tease. Check out all the women in sexy college uniforms – I'm sure it makes more people wish they had attended private schools where they require uniforms like this. Who would've though something conservative schools would require, would turn into something so sexy. Or maybe that was their intent all along.
Anyways, time for me to get back to work. I'll talk to you soon.