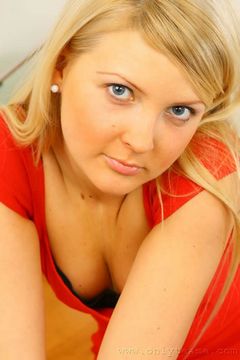 Guys, check out Oxi, a blonde cutie teasing a red dress. Maybe, I'm a little cheesy but the first thing that came to mind when I saw this set was the song "Lady In Red." The lyrics just pooped into my head as I was looking at this set.
Underneath her stunning red dress, Oxi is wearing some rather naughty lingerie, perhaps some lucky gentlemen will get to unzip the dress and discover it. The combination of black lingerie and black stockings really does stand out.
You can see more of this lady in red at Only Tease. There you can find your special lady in an erotic outfit. If you live beautiful women in erotic clothing like uniforms and lingerie, you'll love Only Tease.
Unfortunately, it's time for me to get back to work. See you all tomorrow.