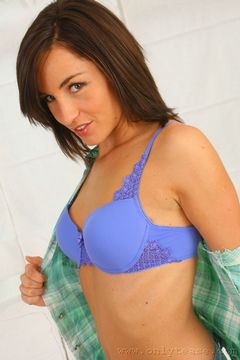 I think many of you will be familiar with today's featured model from Only Tease, Melanie Walsh, AKA Only Melanie. But I don't think many of you will be familiar with her new hair color.
I heard Only Melanie dyed her hair, but I didn't see it until today. I have to admit, I loved her as a blonde, but I think she looks stunning brunette. It really gives her a look, a look with an edge, maybe a little exotic, and it definitely makes her stand out in a crowd.
You can of course see more of the blonde and the brunette Melanie at Only Tease. Only Tease has the finest collection of stunning ladies in naughty outfits, sexy lingerie and other erotic clothing. Click here to see it all!
That's all for today. I'll see you gentlemen tomorrow with another update from Only Tease.