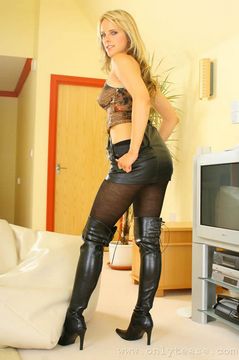 I received a request to post a gallery of a babe in boots. I couldn't resist – check out Mackenzie in a very sexy pair of long thigh high boots. But of course the outfit isn't just the boots you have to love that leather mini skirt and black pantyhose. I hope you men take a moment to enjoy this gallery and I hope you understand how much work it is to put on and then take off those boots. I have a similar pair and you wouldn't believe how hard they are to pull on and lace up sometimes.
See more of Mackenzie and more babes in boots at Only Tease. There you can also request certain outfits, more photo shoots of you favorite Only Tease hotties and more at the member's area forum. And one of the newest features is the ability to fast track galleries scheduled for the future and request that they be posted sooner.
Anyways, I'm heading out for the day. I've got nothing planned, but it promises to be interesting.