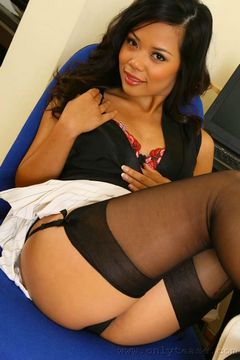 I thought I'd start off the month right with this exotic beauty, Luanna Lani. Luanna is wearing a very sexy secretary outfit. She's generous enough to slip it off and reveal her sexy bra and panty set. But you know the outfit isn't complete without a pair of sheer black stockings.
Enjoy the free pictures, but if you want to see all of Luanna pictures you'll have to head over to Only Tease. At Only Tease you can see hundreds of hotties in thousands of pictures. But don't think this is some mass produced site. Everything from the outfits and lingerie to the pictures used in the posted photo sets is hand picked by guys just like you. Guys that believe a woman in a sexy outfit is just as sexy if not more sexy than a completely naked woman.
I can't believe the summer is almost over. It seems like just a week ago it started, and it won't be long before the leaves start changing colors. But no matter what the season is, I promise to bring you a more hotties from Only Tease.