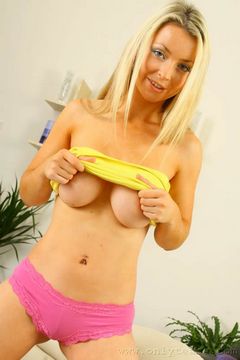 Meet Jo R, a busty blonde who I know is going to get your heart rate up! Jo R just finished a hard workout and now she's feeling pretty hot and bothered. The thing to do of course is for her to take off her gym kit. It starts with her workout shorts, then she takes off her tank top. By the end the only thing she is wearing is her pink panties. I'll bet you wish there were more girls who would cool down the same way after a workout at your gym.
Check out these pictures of Jo R teasing the camera. Visit Only Tease today and see all the fun that Jo R gets into. I have to warn you, this blonde not only gets hearts going, but she can be a heart breaker too. At Only Tease you can see all sorts of beautiful babes in a variety of sexy outfits – gym kits, naughty uniforms, erotic lingerie and much more!
Well, it's that time again. I have a few more things to sort out and hopefully I'll be done by five. I've got an exciting weekend planned, I hope you do too!