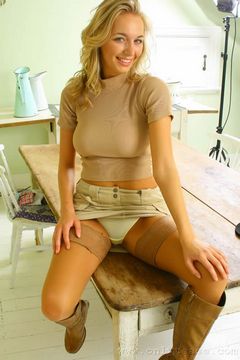 I really believe Hayley Marie is one of those ladies that could look good in anything. You could put her in a faded old t-shirt and a pair of jeans and I have a feeling she'd still turn heads in any room she walked into. But luckily, today we have Hayley Marie in a stunning tan outfit – a tight shirt that shows off her very well endowed curves, a short mini-skirt, tank stockings and long boots. She gives a peek at her thong, but I promise you that by the end of the gallery we get to see a lot more than just a peek of her thong, and even her amazing body. Click here to check out these sample pictures of Hayley Marie.
Before you head off tonight, make sure you check out Hayley Marie at Only Tease. At Only Tease you can see literally thousands of pictures and several videos of the lovely lady in all sorts of sexy outfits and naughty lingerie. And if for some reason Hayley Marie isn't the lady for you – enjoy the wide variety of ladies Only Tease has to offer.
And on that note, I'm going to finish getting ready. I'm only going down the street one of the neighborhood pubs tonight, but I have a feeling this night may get interesting.