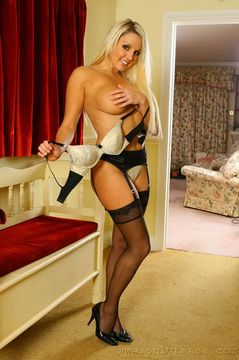 For some reason my male friends all love Danni H. I just can't figure what it is about her that makes them want to know when her next set is coming out or beg to meet her (sorry, guys it's not happening). Maybe it's her stunning looks or out of the world curves. Yeah, I'm thinking that's it. Pretty much anything Danni H wears she looks good in. You could put her in sweats and she'd still cause excitement. However, today we have her in a skin tight top and ultra sexy leather mini. If that isn't enough, what about the very sexy bra, panty and stocking set she's wearing? That's sure to leave some hearts beating fast.
Check out this gallery containing sample pictures of Danni H teasing. However, you can see all of Danni H's naughty photos and videos at Only Tease. If you love women in erotic clothing like lingerie, uniforms or nylons – Only Tease is the site for you. At Only Tease you won't see just a few pictures of the babe in panties, the entire set is focusing on her sexy and erotic clothing and she slowly teases her way out of it.
So, enjoy. I'll be back tomorrow unless someone wants to do all the things on my "To Do List." If someone was so kind to do that I could just spend all day posting Only Tease babes for you to enjoy. Hint. Hint.