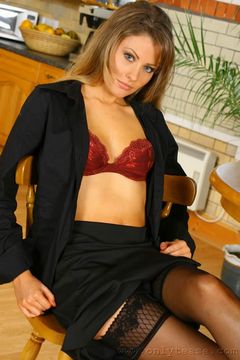 Good Monday Morning! Ok, there's not much that's good this morning, it is Monday after all but I do have a very hot photo gallery of Chrystal Lee.
Chrystal is wearing a very smart outfit, but underneath it she has on bra, panty and stockings combo. I know a lot of you guys wouldn't mind to come home to Chrystal waiting at the table in your kitchen. See more of Chrystal and her friends at Only Tease. Enjoy all their naughty outfits and lingerie. If you love women in erotic clothing, this is the site for you. Don't wait any longer.
See you guys on Tuesday! Don't work too hard today!