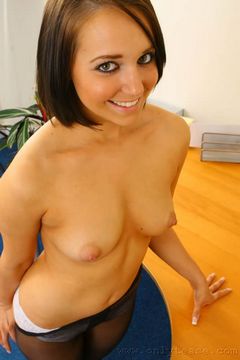 I don't think there is any boss alive that could concentrate on work if he came in one morning and saw the cute and feisty Bethany sitting crossed legged at her desk in his office. In her curve hugging black dress with her knee high boots and sheer black pantyhose, she would be a temptation too much for even the strongest willed man to ignore.
And just imagine if you will watching the lovely Bethany slowing slipping the zipper of her dress down to reveal her white lacey bra and flat tummy before letting that clingy black material drop to the floor. She stands before you in her white lingerie, sheer black pantyhose and knee high boots….and did we mention she has a perfect, small round bottom that is exposed by her sheer nylons and gorgeous small breast that she teasingly reveals as she tosses her lacey bra across the room?
Having the naughty Bethany working in your office might not be productive but it would tempt and tease you into frenzy. You can see all the luscious photos of Bethany here. And for more lovely babes teasing and stripping, go to OnlyTease.