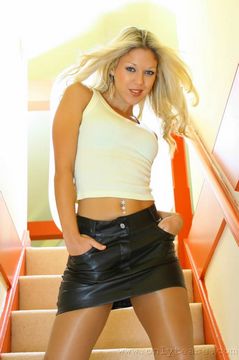 Guys, I get this feeling anytime Belle from Only Tease walks into a room she quickly becomes the center of attention. Like when she walks into a pub, does the music stop, people stop talking and start to stare. If you don't believe me check out this gallery of Belle in a leather mini and tight top. Underneath she's wearing cotton bra and panty set with nude pantyhose.
Belle has just amazing looks and a stunning body. Visit Only Tease to see more of Belle and the entire photos of this sexy set at Only Tease. You can see Belle exclusively at Only Tease in over a hundred different photo and video sets. That's a rather impressive number, if I do say so myself.
Ok, gents. Time for me to run. I'll see you tomorrow.