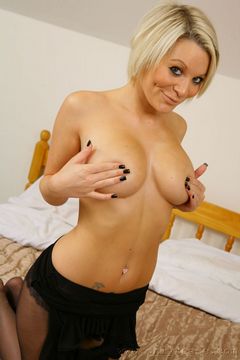 Guys, meet Amy Lu, a busty blonde beauty. It's hard to go wrong with a hottie like Amy. This bubbly babe is wearing a sexy black evening dress, ready for a night on the town. Underneath her dress you might have noticed she's not wearing a bra, but she is wearing sheer black pantyhose and lace french knickers. Who wouldn't mind seeing Amy and her naughty outfit while you're out tonight?
However, if you don't want to go out to the pubs and clubs tonight, you can meet up with Amy Lu inside Only Tease. At Only Tease you can see hundreds of beautiful ladies in sexy clothing, naughty lingerie and more. And at Only Tease you don't have to worry about not meeting the right girl tonight, because there are a lot of world class hotties inside Only Tease that you don't have to buy drinks for.
I'm about to go out myself. Meeting up for dinner with my friends, then going to crawl across the city. Whatever, you do – go out, stay at home – I hope you have fun.