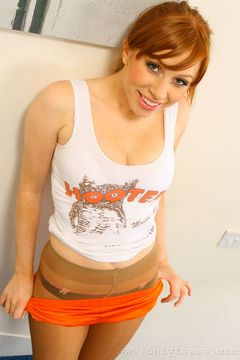 Check out the very sexy pictures of Alexandra looking amazing in this Hooter's uniform. I can only imagine how much in tips Alex would make if she showed up to a Hooters in this outfit. Hooters may be known for this busty blondes but this redhead would definitely give them a run for their money in this figure hugging uniform.
You can see more sexy ladies in uniform at Only Tease. Some of the most popular uniforms are the naughty nurse outfits and the cute, yet very sexy schoolgirl uniforms. Plus, these ladies are always wearing something sexy underneath like sheer pantyhose, lace thongs and sexy bras.
Stop by Only Tease today and see all of the sexy photos and download all of the erotic videos.